The Elf on the Shelf is a fun tradition for our family.
Our elf, Timmy, arrives on Dec. 1 every year. His job is to report back to Santa about the behaviour of our two boys—Ricky, 4, and Lucien, 8.
Timmy has created a lot of fun for the whole family. Timmy somehow manages to get himself into mischief every night. When the kids wake up from Dec. 1 to Dec. 24, they run around the house trying to find Timmy to see what kind of trouble he has gotten into.
Timmy raids the cereal boxes, takes a ride with our kitchen witch, steals balloons and commits other interesting pranks. Last year he raided Ricky's piggy bank—maybe that one wasn't the best idea Timmy has ever had—Ricky was MAD.
This year we thought it would be fun to share our adventures with Timmy the Elf.
Over the course of December, we'll be updating this story with the adventures of Timmy.
Please share your Elf on the Shelf experiences! I'm sure that many other families have mischevious elves causing problems in their homes.
I'd love to hear about other Elf on the Shelf adventures.
December 1, 2018
He's baaaaccccccccck. Timmy arrived overnight and stole our marshmallows! He is enjoying a marshmallow bath and making messes already.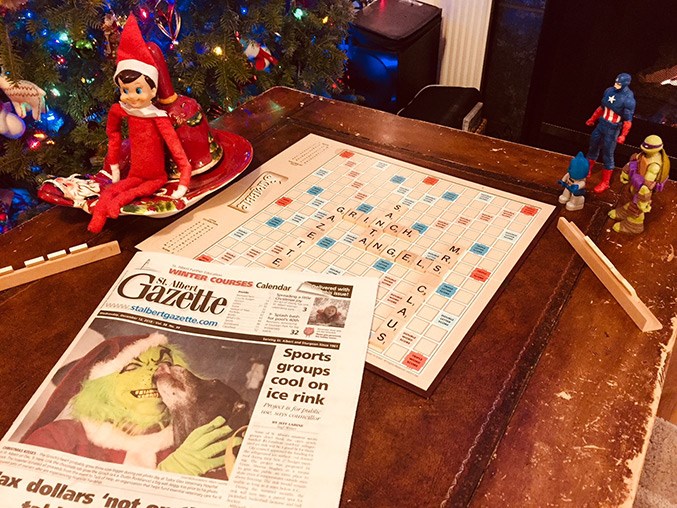 Has your elf arrived? Scroll down to see more of Timmy!
December 2, 2018
Timmy got into our mini-oranges last night! He even stole a sharpie and drew some kind of self-portrait. At least he is making healthier eating choices. And he has not found my stash of Toffifees yet!
December 3, 2018
Last night Timmy went after my After Eights! He broke out the candy cane grappling hook and rigged up a zip line! I am NOT impressed!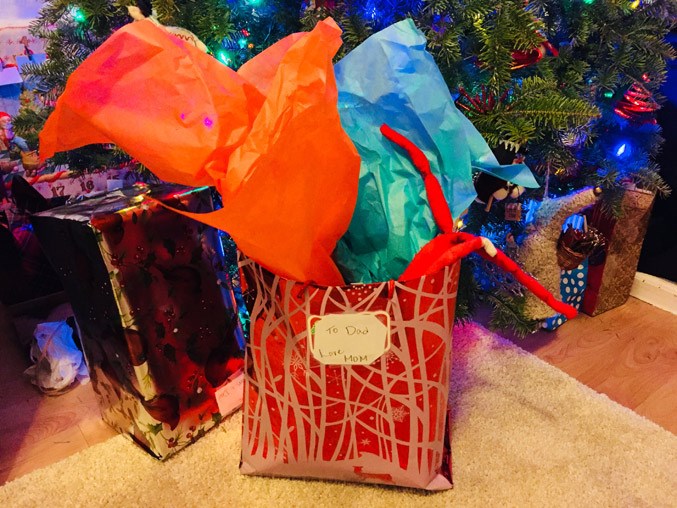 December 4, 2018
I spoke with our household Army Rangers before going to bed last night. I asked them to keep an eye out for anything suspicious and stop any hi-jinks. They captured Timmy! Good work, Rangers!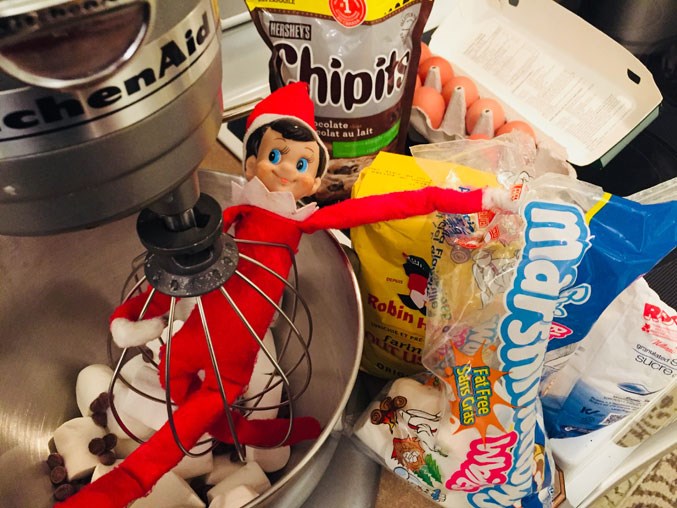 December 5, 2018
Ricky was upset that I deployed the Army Rangers to capture Timmy, so I untied him and let him loose. I have now suffered the consequences. He has eaten my After Eights!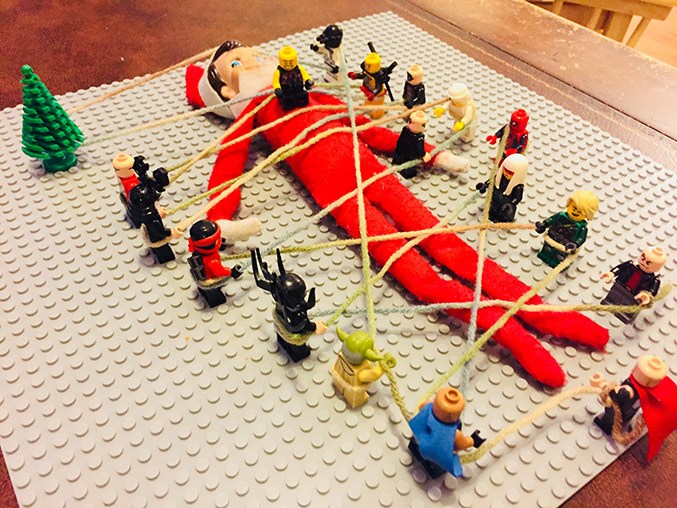 December 6, 2018
Timmy found his spectacles last night and gave the St. Albert Gazette a read. I am glad to know that our elf is an informed citizen! Looks like he found his best buddy, Santa Claus, in the paper. The Arden Theatre has a ton of great stocking stuffer tickets, including the CBC Kids performance of Will's Jams! Check it out!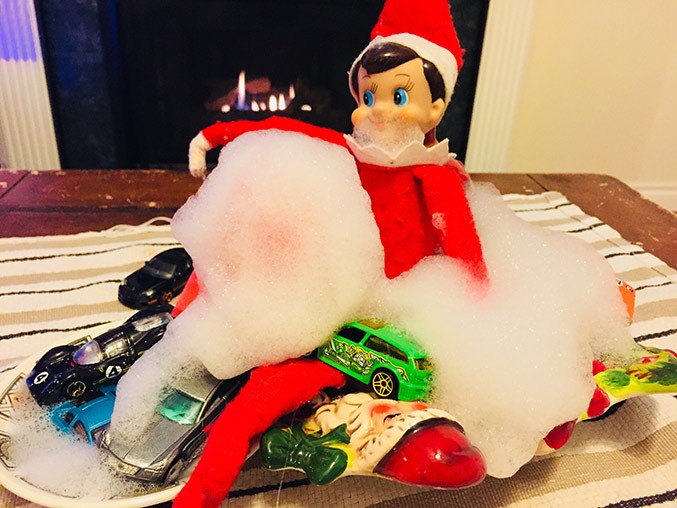 December 7, 2018
Timmy climbed up and got on top of one of our glass Christmas balls. From this vantage point, Timmy can see everything that our boys are up to and monitor their nice vs. naughty progress. He will be reporting back to Santa daily!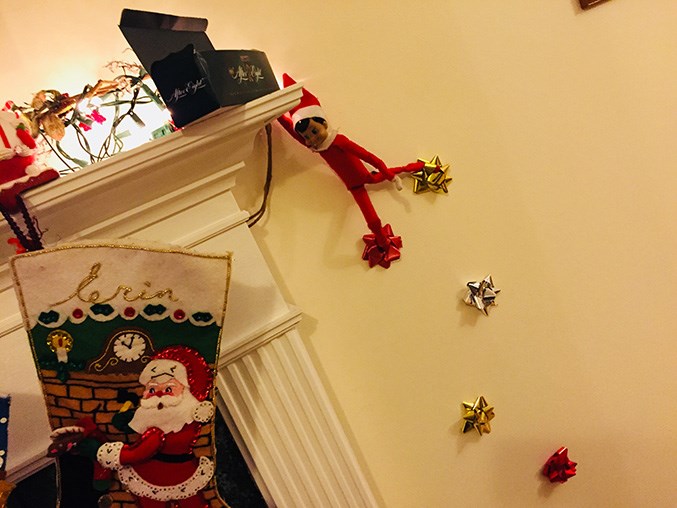 December 8, 2018
Timmy got into the pantry. I had removed the cookies and candies in anticipation of this raid. Instead of eating, he has stolen the flour and created a snow angel. At least he didn't get my After Eights!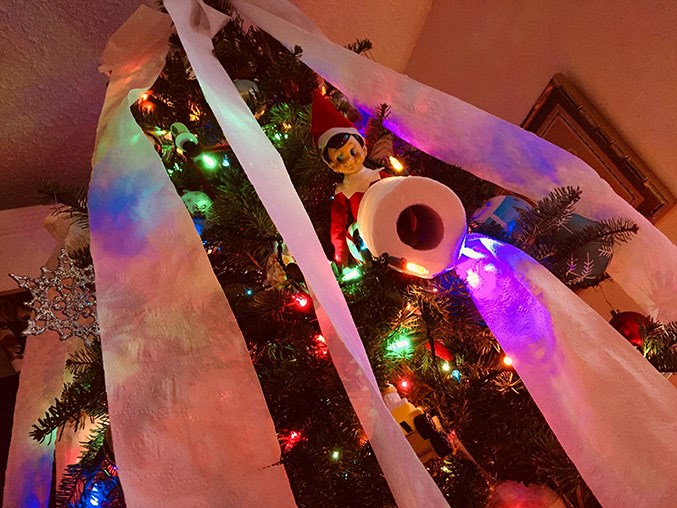 December 9, 2018
The boys got into some trouble yesterday and Timmy decided to send a message. He is always watching and reporting back to Santa! He has stolen the boys' stockings and replaced them with UNDERWEAR! Those kids had better start behaving.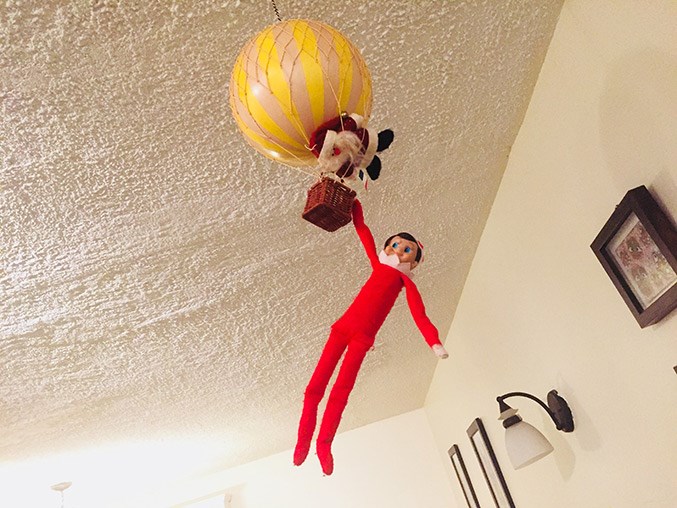 December 10, 2018
Kylo Ren has captured Timmy. I am thankful that a dark lord of the Sith made sure that Timmy couldn't get into trouble last night.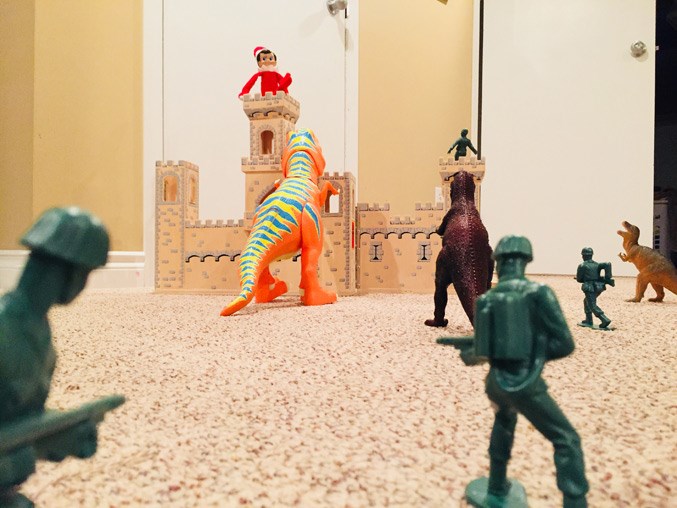 December 11, 2018
Timmy is learning how to read. He is hanging out on our Word Wall so he can make sure that Luc is completing his homework. Nice work, Timmy!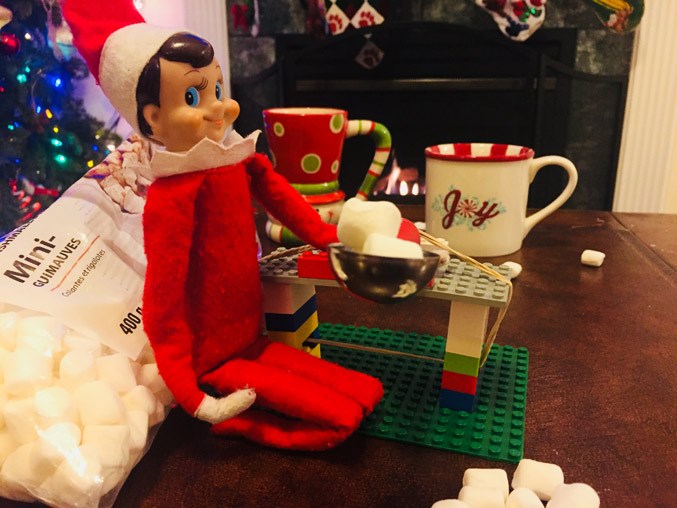 December 12, 2018
Timmy's revenge! He clearly has not forgiven the household Army Rangers for his capture earlier in December (scroll up to see December 4 photo). Timmy has mounted Battle Cat and found justice!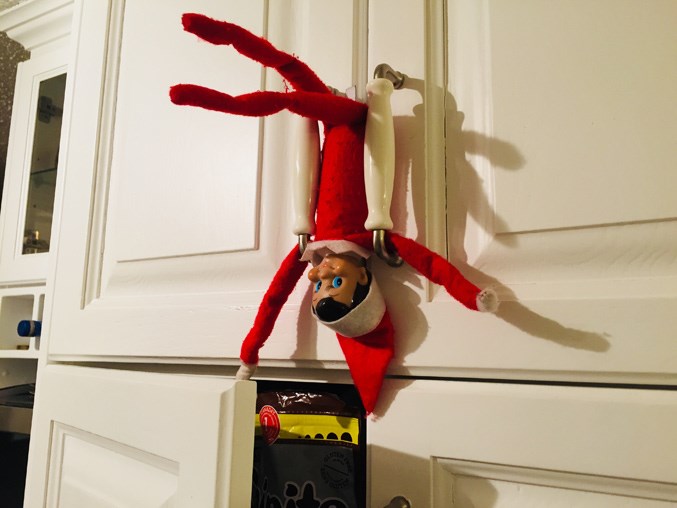 December 13, 2018
Timmy turned to the Gazette for inspiration during last night's Scrabble match. It looks like he is wiping the floor with Captain America, Donatello, and Duplo Lego Batman!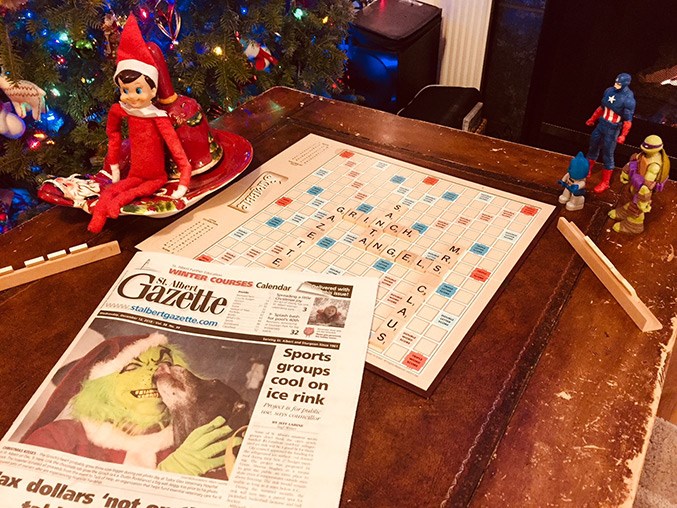 December 14, 2018
Timmy built a swing last night so he could cuddle up with our Santa ornament in our Christmas Tree. He must miss the big guy when he stays with us in December!
December 15, 2018
Timmy tried to open up my present. This time he has gone too far!!!! Is it time for me to deploy the household Army Rangers again? Or maybe I should call in further reinforcements?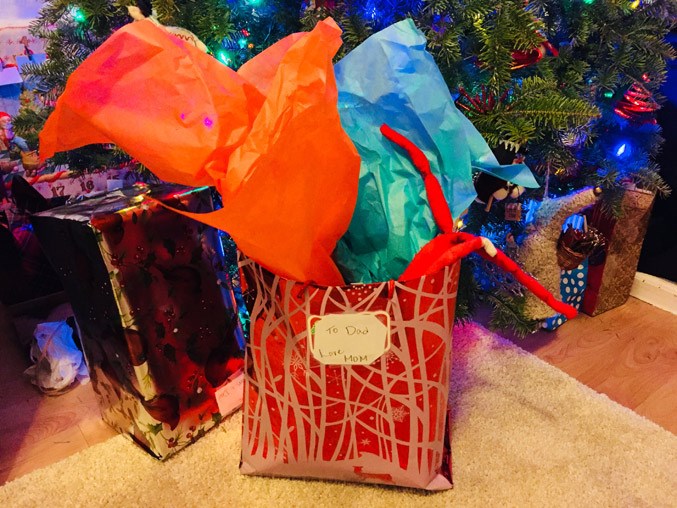 December 16, 2018
It looks like Timmy wants some marshmallow chocolate chip cookies! OK, Timmy, we get the hint. We will do some Christmas baking today! Happy Sunday, everyone!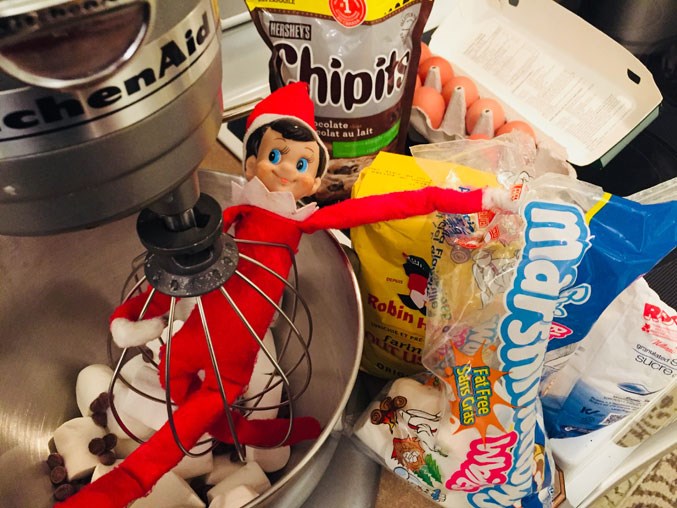 December 17, 2018
I spoke with our crew of LEGO figures before going to bed last night. I am upset that Timmy opened my present the other night. They tied him down last night and kept him out of trouble - Gulliver's Travels style!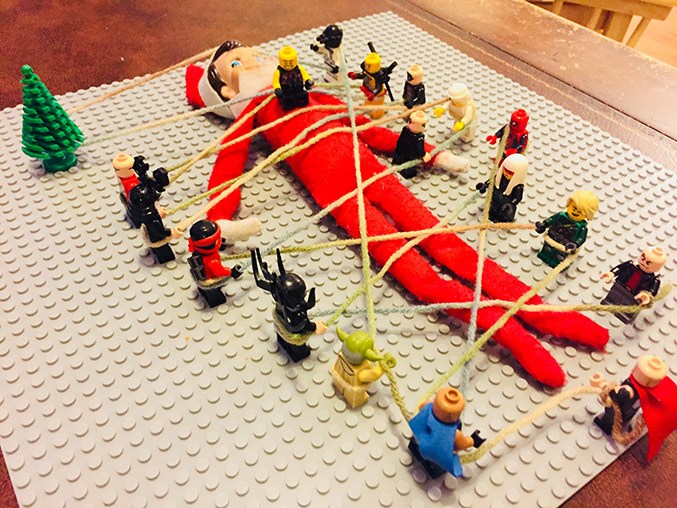 December 18, 2018
Timmy did Ricky a favor last night and put the Hot Wheels through the car wash! Nice work, Timmy!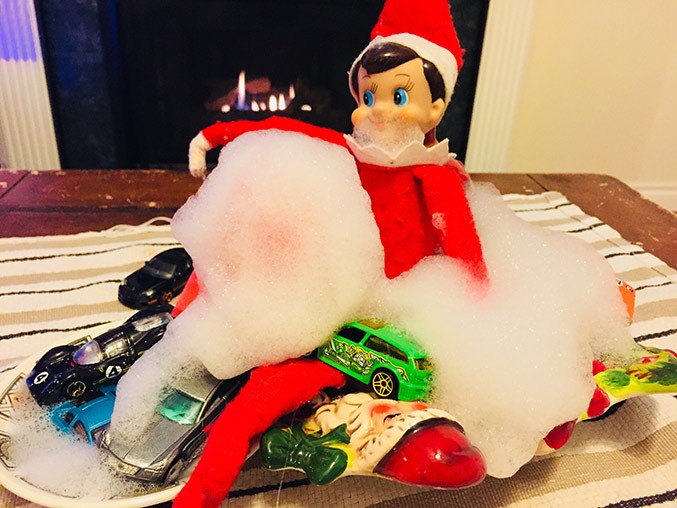 December 19, 2018
Timmy is after my After Eights! AGAIN! He has also stolen Erin's bows to create a climbing wall. I'm not happy, Timmy. Should I call the LEGO team or the Household Army Rangers again?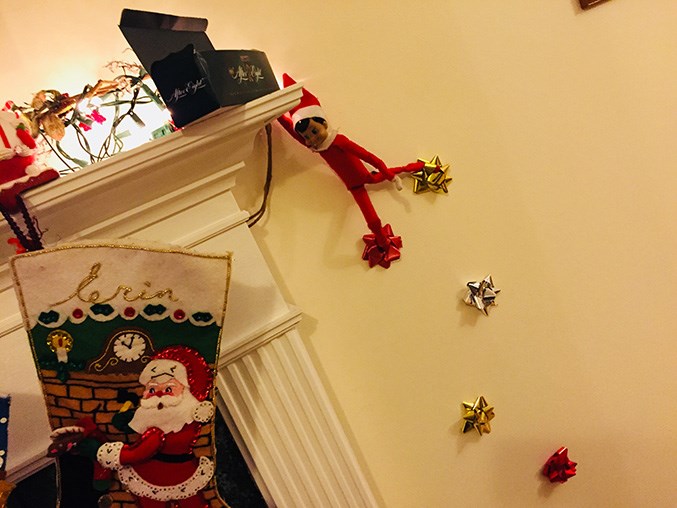 December 20, 2018
Timmy has TP'ed our Christmas Tree. I think he might be taking things too far. He has stolen candy, created problems all December, and is now messing with my tree. You had better watch out, Timmy!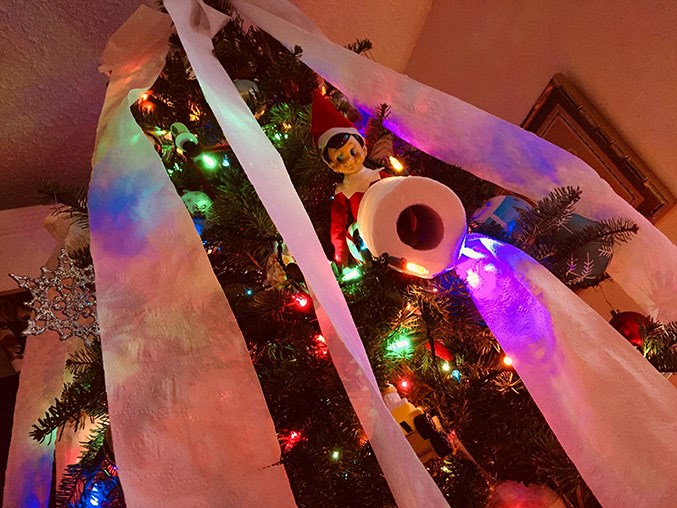 December 21, 2018
Timmy must know I have it out for him. He has found Ricky's toy hot air balloon, grabbed our 1970's Santa Christmas ornament, and is making a break for it!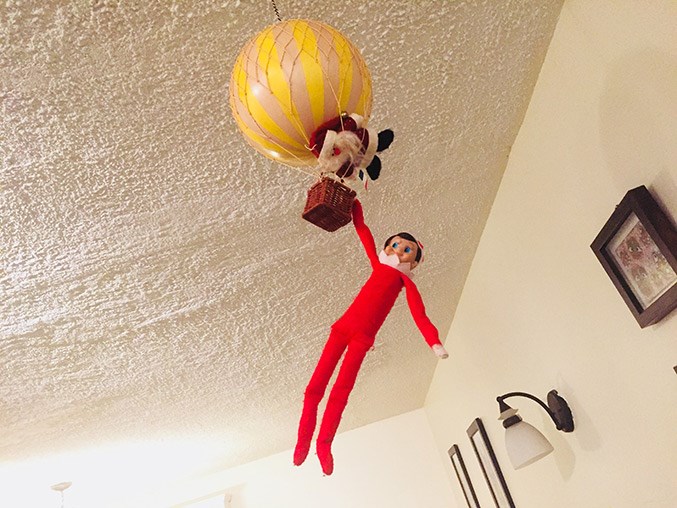 December 22, 2018
Timmy is in trouble! The household Rangers have teamed up with Ricky's dinosaurs to stop Timmy from creating mischief. I am impressed by the Rangers' efforts this December. My After Eight chocolates are safe for another day!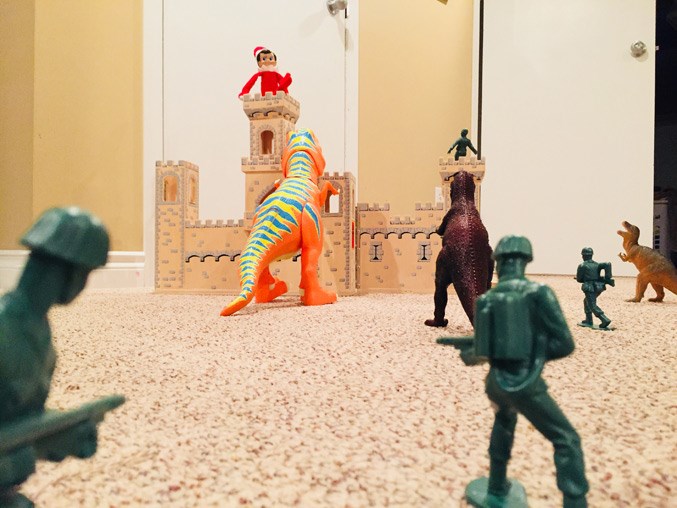 December 23, 2018
Timmy has created a marshmallow catapult! We have a very industrious little elf! One day until Christmas Eve! Timmy is ready to help load marshmallows into Santa's hot chocolate!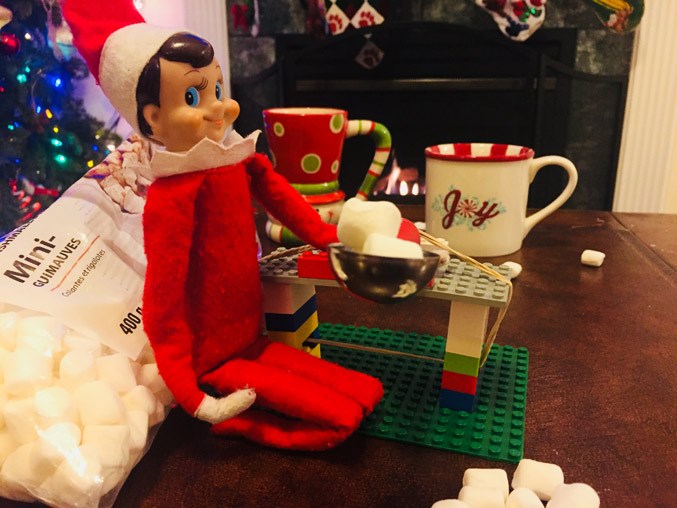 December 24, 2018
Timmy has managed to scale the pantry cupboard door! He is in a good position to get those chocolate chips! He is heading home tonight with Santa. But he will be back for one last time in 2018 tonight to say goodbye!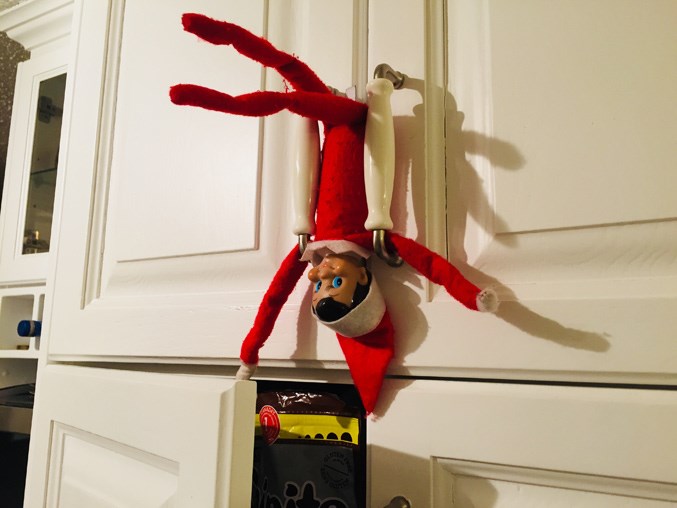 December 24, 2018 - 8:15 PM
Timmy is ready to go home with Santa tonight! Despite the fact that Timmy and I have some differences, I love the little guy!
Ricky and Luc have agreed to dispatch the Household Army Rangers on protection duty. We need to make sure that Santa gets his cookies, the Reindeer get some celery, and Timmy gets to bring home the box of After Eights that he has been after all December!
Happy holidays! Timmy looks forward to seeing you again next year!