The view
Divots overlooks the course. Whether you choose the dining room or the panoramic patio, you will have the most relaxing, serene view to enjoy. There's a bonus for golfers having a refreshing drink on the patio before hitting the course; it overlooks the 9th hole of the Spruce course, giving you a full overview of the tricky terrain.
Something for everyone
Tempting fast bites, healthy and light options, indulgent fare, gluten free options – there is truly something for everyone. Why not start with a light, crunchy Thai salad? Or maybe mozza sticks dipped in sweet marinara sauce. Move onto the main event, which can be anything from a juicy, loaded burger to a creamy bowl of pasta; or smoky lobster grilled cheese to a steak smothered in mushroom sauce. A range of drink options pair perfectly with your meal choices. Need a bite while golfing? No problem. A quick serve window at the 19th hole will refuel you without slowing down your game.

Brunch
For a limited time during the year, Divots is open for brunch. This year brunch starts after Mother's Day. Forget cooking breakfast or lunch on a weekend. It's time to relax and let Divots handle the hollandaise.

Support local
Divots restaurant is proud to include some products from local food and beverage suppliers.
Events
Divots is ready to host events of all sizes. Whether it is a birthday party with 10 guests or a wedding with more than 150, everything you need – including custom catering – is right on site.
The private meeting space sits 40 and can be partitioned for additional privacy. It's ideal for all kinds of meetings as it can be rented by the hour or by the day.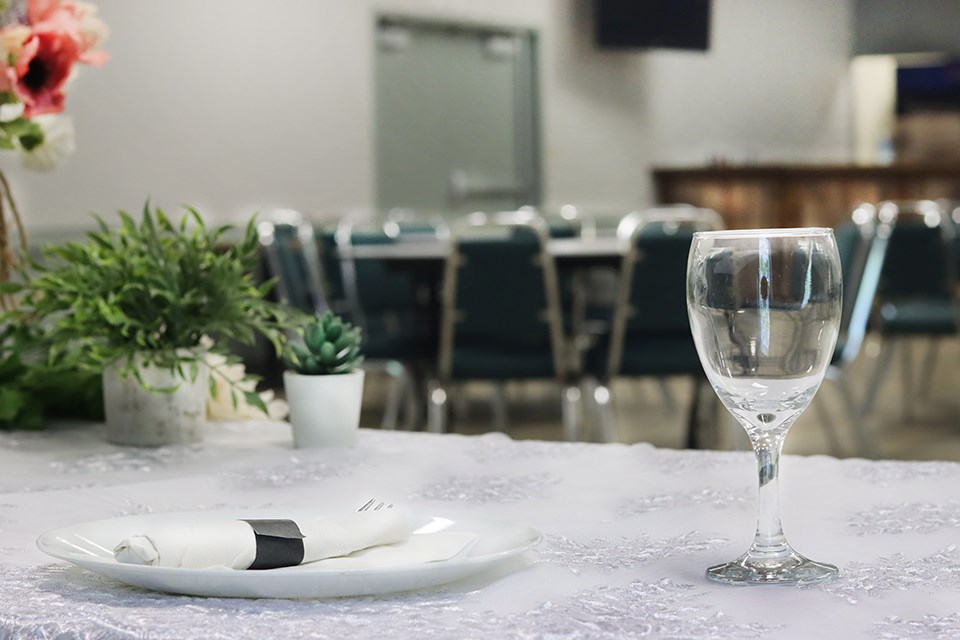 The fully licensed clubhouse is a popular spot as a winter rental, so reserve your Christmas party, wedding or family reunion today.
Newly renovated, the Events Centre features a dance floor, indoor bar, covered outdoor BBQ and patio area with seating and room for more than 150 guests. It is the ideal location for weddings, anniversaries, corporate events, trade shows, milestone birthdays, seminars and celebrations of life.

Catering
Executive Chef Mike Devine and his restaurant team cater events on or off site. Choose among packages that include pick up, drop off or the use of serving and bar staff. Local catering is available for up to 400 guests and menus are customized to needs and budgets.

Don't forget to golf!
Don't forget to check out the golf course! Ideally located in between Edmonton and Calgary, Innisfail Golf Course's history goes back to 1924 when it was designed by Bill Robinson. It is a 27-hole, championship length course nestled in the natural greenery of the area. The holes are challenging for seasoned golfers, giving them the excitement they crave. Yet it's is also a wonderful place for newer golfers to hone their skills as they wind their way through the beautiful groves of mature trees and the stunning scenery.
Learn more about Divots at www.innisfailgolf.ca/divots-restaurant and about the golf course at www.innisfailgolf.ca. Follow the club on Facebook, Instagram and Twitter.