While most people are familiar with the expansive yellow canola fields across the province, it may be surprising to find out that many of these crops of sunshine are actually canola's cousin, mustard.
International Demand
The Canadian prairie provinces, including Alberta, produce 80% of the world's mustard seeds. Our mustard is used all over the world to produce some of the best prepared mustard products available – from ballpark yellow mustards to France's famous Dijon mustards. If someone is adding prepared mustard or mustard oil to a dish anywhere in the world, the chances are high that the seeds came from right here in Alberta.
There are three common types of mustard seeds and all three are grown in Alberta. Yellow mustard is generally most popular in North America, brown mustard is mostly used in European preparations (including Dijon), and oriental mustard, which is often exported to Japan, is often used in oil form.
The famous French mustard producer, Maille, buys 5,000 tonnes of Canadian mustard seeds each year, which is enough to make 1.9 million jars of their popular Dijon mustards.
Delicious in its Many Forms
Most of us are familiar with prepared mustard as a condiment on common foods like hot dogs and hamburgers, but there are many other culinary uses for this delicious product. Surprisingly, mustard is actually considered the third most popular condiment in the world after salt and pepper.
Mustard is often used to brighten up the flavour of many recipes, especially mayonnaise, barbecue sauce, vinaigrettes, and marinades. The unprocessed seeds themselves, which you can find in the spice aisle of most grocery stores, can be used as an ingredient in pickles, as a delicious addition to a prime rib roast, or even encrusted on pan fried salmon. Mustard oil, which is extracted much like canola oil, is a spicy ingredient popular in Asian cuisine.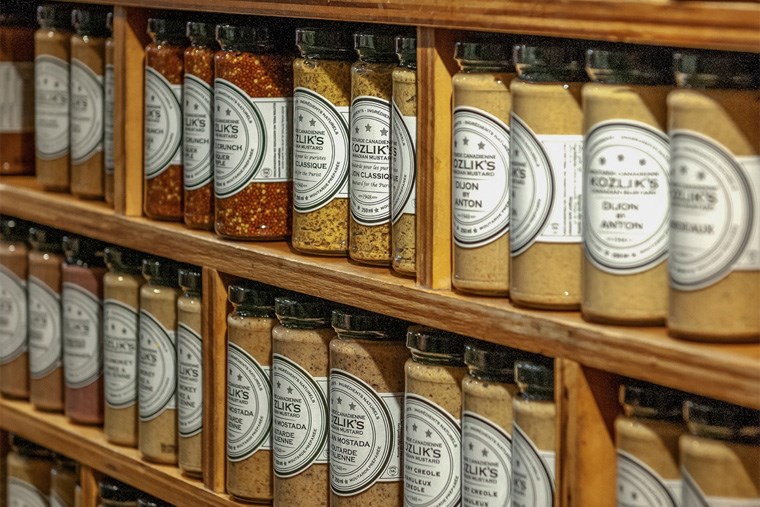 Local Mustard Producers
Not only are Albertan farmers making a name for Canadian mustard, but so are some local Albertan food manufacturers and chefs. There are a number of local prepared mustard producers around the province including Brassica Mustard in Calgary and Meuwly's Artisan Food Market in Edmonton.
Brassica Mustard is known for their distinctive and flavourful creations like cranberry honey mustard, black pepper mustard, and roasted garlic mustard. Their products can be purchased on their website as well as at select retailers around the province.
Meuwly's Artisan Food Market, a popular purveyor of gourmet food in Edmonton, makes their own brand of gourmet grainy mustards that are full of flavour. Their unique recipes include miso-maple mustard, honey cider mustard, and cranberry mustard.
The next time you are out in the summer enjoying our beautiful and iconic yellow landscapes, consider the possibility that you are looking at a crop of mustard that will one day be enjoyed by people all over the world.

This story was made possible by our
Community Partners Program
. Thank you
Shirley's Greenhouse
for helping to expand local news coverage in Alberta.
Learn more
.