So, you think you're an adventurous eater? We'll see how brave you feel when you have the opportunity to sample meats like ostrich, rattlesnake, alligator, frog legs, and more. Banff's famous fondue restaurant, the Grizzly House, is a destination in its own right. If you're not interested in "exotic" meats, you need to add this place to your bucket list because the fondue is unreal. Even the atmosphere is unforgettable.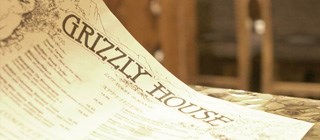 The Grizzly House has been around since 1967. Like the restaurant's menu, the origin story is also incredibly unique. When Barbara and Peter Steiner opened the venue's doors, it was Western Canada's first disco. The food for the disco was delivered through a hole in the wall by the Chinese restaurant next door. Sadly, that restaurant shut down, and the Grizzly House had to get creative as they had to serve food to continue serving liquor. The owners and staff brought in their fondue pots; the rest is history.
Now, decades later, the experience is still one of a kind. Guests begin their meals with delicious cheese fondue, followed by a sizzling hot rock with 14 different types of meat to choose from (don't worry, many of them are typical). Of course, the meal is often finished with chocolate fondue. This is just one path you may choose! You can also get Swiss raclette- melted cheese for your appetizer or anything else on the menu that strikes your fancy. You'll be engaged and having fun the whole time, and you absolutely won't leave hungry.
The atmosphere is old-school in the best kind of way. It is dimly lit and rustic. The wood-paneled walls make you feel like you're in an old ski chalet, and you better believe the 70s music will be playing. Eclectic decor like a wood-carved bear, bearskin rugs, a buffalo head and even a mannequin riding a motorcycle add to the place's charm.
You thought it couldn't get more out of the ordinary? Think again. Each table has it's own dial phone. The tables can call from one to the other. While it may startle you the first time the phone rings, it's something you sure won't forget.

If you're looking for a super fun date night, a memorable dinner out with the family, or just something new the next time you visit Banff, you've found it. The Grizzly House is super cozy and perfect for this time of year as the evenings start to cool down.
But really, will you try the "exotic fondue dinner?"
Britanny Burr is a freelance writer and a contributor to Great West Media. This story was written for the 2022 Hot Summer Guide advertising feature. It is not written by and does not necessarily reflect the views of the editorial staff.