Start with the invites.
If you've decided to throw a cannabis-themed party, it's essential to include this golden nugget of information somewhere on the invitations. This could be as simple as stamping them with a small marijuana leaf or going all out with ganja-related memes – whatever gets the message across. The last thing you want is for your non-420 friends to show up surprised!
Budget, budget, budget.
Decide on whether or not your party will be a BYOB (bring your own bud) party or if you're going to buy the cannabis yourself. While providing your own green is a great way to guide the vibe (sativa, indica, or a hybrid), it can get expensive quickly. In addition to the product, you'll need to think about how your guests will consume it (pre-rolls, dabs, edibles, etc.). Remember, you also still need to buy food, drinks, and decorations.
Decorate accordingly.
Just because you're throwing a cannabis-inspired holiday party doesn't mean you need to deck your house out in tacky, cannabis-theme decorations (unless you want to, of course). Think about the overall tone and vibe you want to create and go from there. If that means plastering big, bright cannabis leaves on the walls, then go for it!
Put together a mellow playlist.
Every party needs a playlist, but be careful when choosing: Music can make or break the mood. Anything that's upbeat but chill should do. Instrumental songs work, too. If you're throwing a 420 rager, you may want to choose artists like Bob Marley, Slightly Stoopid, Sublime, and Snoop Dogg. Pay attention to your guests' moods; use them as inspiration.
Encourage safe and responsible consumption.
Before the party begins, remind guests that each person's tolerance levels are unique. Let them know that your goal is to keep them safe and happy. Reiterate that there's no pressure to hit every joint that lands in their hand.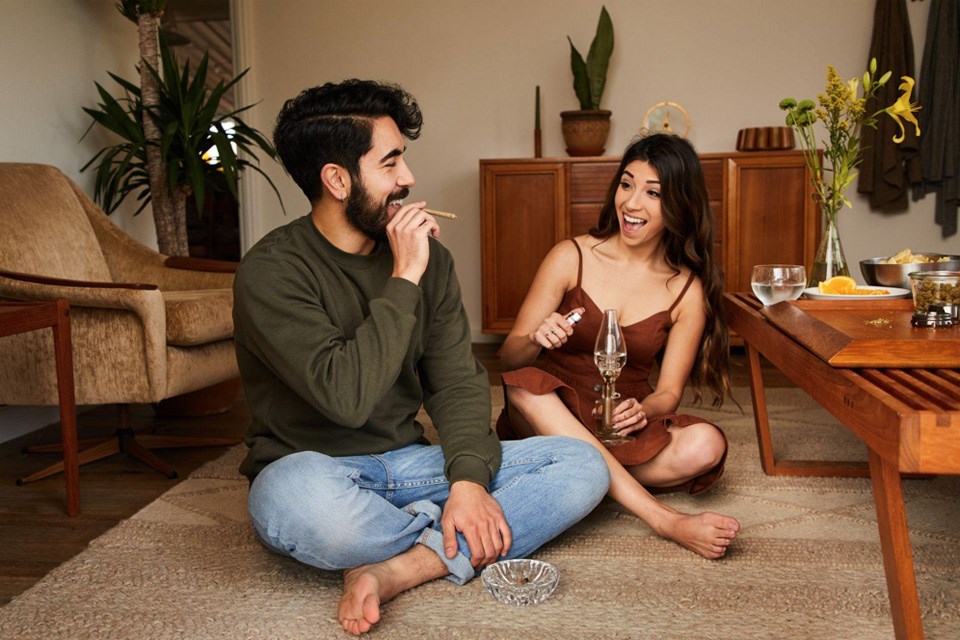 Don't forget the snacks.
The munchies are real. When planning, be sure to create a menu that includes both non-cannabis-infused and cannabis-infused snacks and treats. You'll also need to create some kind of sign or marker to let your guests know which food items contain THC and how much. Rule of thumb: Serve edibles between 2.5 and 5 mg max and encourage guests to wait before getting a second helping. You may want to offer CBD edibles as well, as CBD can counteract the negative effects of THC.
Serve non-alcoholic beverages.
Alcohol and pot don't mix; opt for sparkling or fruit-infused water instead. Not only does alcohol dull the senses, but combining cannabis and booze could lead to the spins or a green out.
Create a dark and cozy space for accidental overindulgers.
Things happen. One or more of your guests may accidentally overconsume. As the host, it's your job to provide a safe and comfortable space for them to come down from their high. Have bottles of water on hand and a small bowl of black peppercorns and some lemon juice.
Send guests home with a ganja goodie bag.
Although goodie bags aren't a must, sending guests home with a little something to remember the party by is always nice. Goodie bag items could include miro-dose edible gummies, rolling papers, CBD-infused water bottles, CBD lip balm or lotion, etc.
Throwing a cannabis-themed holiday party is something your 420-friendly buddies are sure to enjoy with these expert tips!

This story was made possible by our
Community Partners Program
. Thank you
Revive Cannabis
for helping to expand local news coverage in Alberta.
Learn more
.