Cannabis legalization has been successful in Canada and has been exploding around the US, and it can be difficult to keep track of every state where you can toke up worry-free. We've compiled a list of states where recreational cannabis consumption has been legalized. If you're unsure of your state's laws or want to plan a hazy holiday, here's where you can light it up legally.
Canada
Cannabis became legal for sale in Canada in October of 2018. Regulations vary between provinces and municipalities, but Health Canada has authorized a purchase limit of 30 grams per visit to a Retail Cannabis Store. Canadians (with the exceptions of some provinces) can legally grow up to four indoor plants at home.
Alaska
The Last Frontier was one of the first states to legalize recreational cannabis consumption, passing Measure 2 in November 2014. Alaskans can legally possess up to one ounce of marijuana, and home cultivation is allowed up to 12 plants.
Arizona
One of the newest recreational markets in the U.S., Arizona passed Proposition 207 in November 2020, making one ounce of cannabis legal for adults over 21. Adults can also grow up to six plants each, with a maximum of 12, per household.
California
Cannabis possession had been a misdemeanor in California since the 1970s, and they became the first state to legalize medical cannabis way back in 1996! In 2016, Prop 64 passed, allowing the sale and distribution of recreational cannabis to begin in 2018.
Colorado
Colorado passed Amendment 64 in 2012, just four days after Washington became the first state to legalize recreational cannabis. In May 2021, Colorado increased the possession limit for adults from one ounce to two.
Illinois
Like Arizona, Illinois is fairly new to the world of legal cannabis May 2019, the Illinois General Assembly passed recreational legalization, allowing adults to possess up to 30 grams starting in 2020.
Maine
One of the leaders in cannabis reform, Maine decriminalized small amounts of cannabis possession in 1976. Beginning in 2016, it became legal for adults to possess up to 2.5 ounces of cannabis and grow up to three mature plants at home.
Massachusetts
Massachusetts passed Question 4 in 2016, making weed legal for adults over the age of 21. The Bay State has some of the most relaxed laws on possession, allowing adults to have up to 10 ounces inside their homes.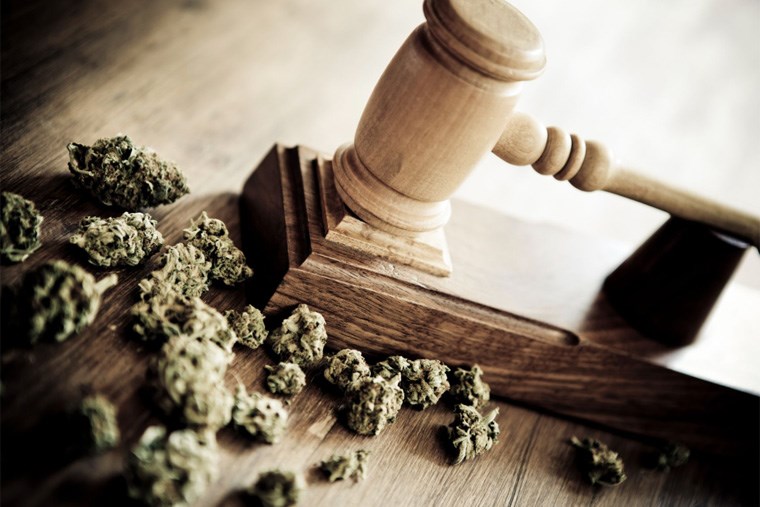 Michigan
Recreational marijuana has been legal in Michigan since 2018, allowing adults to possess up to 2.5 ounces outside of their home, 10 ounces inside their home, and grow up to 12 plants at a time.
Montana
Undoubtedly feeling the pressure from the rest of the west, Montana passed Initiative 190 in November 2020. While details are still unclear, you'll soon be able to get high in Big Sky Country legally.
Nevada
Boosted by the big population centres of Reno and Las Vegas, Nevada voters legalized recreational cannabis in November 2016. Due to the rural nature of the majority of the state, home growing is legal if you reside 25 miles or more from a dispensary.
New Jersey
One of four states to pass legislation in November 2020, you can legally possess up to six ounces of marijuana in New Jersey. Cultivation remains off limits to everyone except licensed cultivators.
New Mexico
Another new kid on the block, New Mexico also legalized recreational use in November 2020. The state's legal, regulated market is slated to start in 2022.
New York
In 2019, New York passed a full overhaul of marijuana enforcement, including decriminalization of possession under two ounces. Just two years later, they legalized recreational possession up to three ounces of flower or 24 grams of concentrate.
Oregon
Oregon decriminalized pot possession in 1973. In 2014, voters approved legalization for adults over 21.
Vermont
Since 2018, possession of up to one ounce, or two mature plants, has been legal for adults in the aptly-named Green Mountain State. Licensed retail cannabis stores are allowed to open no later than May 1, 2022.
Virginia
Starting in July 2021, adults ages 21 and up can legally have up to one ounce of marijuana in the state of Virginia. Recreational sales are expected to begin by 2024.
Washington
The original trailblazer, Washington permits anyone over age 21 to possess up to one ounce of flower. Home growing is only allowed for medical use.
Many cities and counties in states not listed above have decriminalized possession of cannabis, but legal methods of purchase have yet to be implemented. Be sure to research your specific jurisdiction for the exact laws concerning marijuana possession, and note that crossing state borders with cannabis is illegal.

This story was made possible by our
Community Partners Program
. Thank you
Revive Cannabis
for helping to expand local news coverage in Alberta.
Learn more
.