As you get up in the mornings there seems to be a stiffness that hinders your normal movements or mobility. You may be tempted to just accept it as part of the aging process, but it doesn't have to be, and you can change it.
Improve Your Mobility
Your whole system of movement needs to be looked after if you want to maintain that daily mobility. How we sit and get up, how we walk and how we move in general needs attention. You may have a fear of falling or experience pain when trying to exercise but avoiding it will cause more difficulties over time.
Exercising is very important as it can reduce your stiffness and pain, improve your balance to avoid falls and give you a healthier lifestyle that will allow you to continue your independent living. Physical activity can help you reduce healthcare costs and improve your overall strength.
Exercise Routines
As you age you need to remember to move more and sit less. Older adults need at least some form of moderate activity to help strengthen muscles. If chronic conditions or pain affect your ability to be physically active, it is always good to discuss this with your family physician.
Establishing an exercise routine has many benefits that include better sleep, improved balance and even a reduced risk of many illnesses like heart disease, diabetes and depression. Whether you exercise at home or go to the gym it should work all major muscle groups (legs, hips, back, chest, abdomen, shoulders and arms).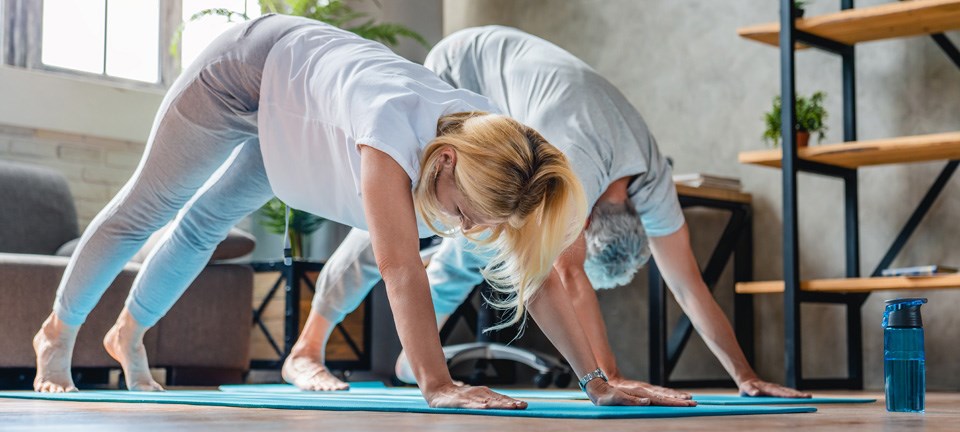 Exercise Options
Many of the following choices include a social benefit, which is also good for your mental health. For example, group water aerobics is extremely popular and fun. If you have arthritis or joint pain, this is the one for you. You can do water jogging, flutter kicks and arm curls. The buoyancy of the water is ideal for seniors.
Chair yoga is also becoming a favourite low-impact form of exercise. These exercises will help with muscle strength, balance, and flexibility. This form of yoga is also less stressful on muscles, joints and bones.
Another unique exercise is using resistance bands. Workouts with these user-friendly bands are loved by many seniors. They are good for strengthening your core, which helps to improve posture, mobility and balance.
Walking is one of the least stressful forms of exercise. Find a park trail, invite friends and have a friendly race or even bring a playlist to stimulate your walk! Your heart will thank you.
Exercising helps release those endorphins, which will give you energy, while inactivity can make you tired. Choose to be active.

This story was made possible by our
Community Partners Program
. Thank you
Didsbury Dental
for helping to expand local news coverage in Alberta.
Learn more
.